This programme is in partnership with...
About the Advanced Practice Toolkit
The Advanced Practice Toolkit supports ongoing work to enhance the understanding of Advanced Practice (AP). The toolkit aims to benchmark this level of practice and its application to specific roles across clinical practice, leadership and management, education and research.
The toolkit provides general information about the AP role as well as specific information aimed at the following groups of people: practitioners, educators, employers, commissioners, those planning the workforce across systems and patients/service users.
Content includes:
A definition and an understanding of the four capabilities that underpin AP
Information for practitioners on how the four capabilities that underpin AP can be assessed
Advice for employers about how to build APs into the workforce (this includes information on governance and supporting the role at all levels in the workplace, recruitment, appraisals, apprenticeships and staff retention)
Information for commissioners and system leaders, including advice on planning the workforce
Useful advice about the AP role for patients and service users, to help them understand the role
This toolkit will be updated and supplemented with further information as it gets developed.
It will be helpful to have read the 'Multi-professional framework for advanced clinical practice in England' document, which can also be downloaded from the HEE website.
AP Online Toolkit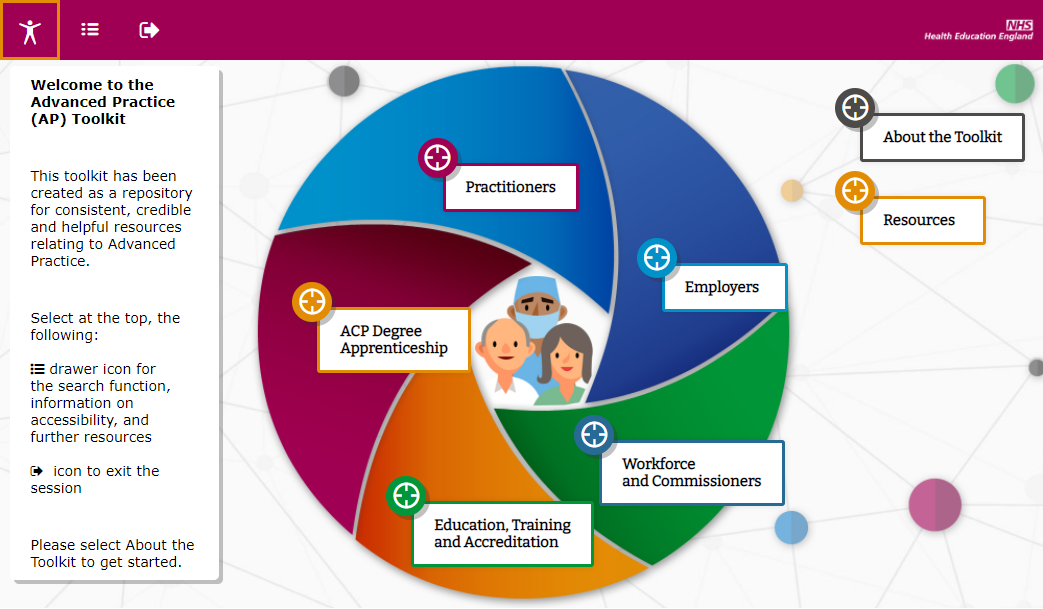 Meet the team
Donna Poole – Deputy Head of Clinical Education, HEE
Beverley Harden – AHP National Lead, AP and Consultant Lead, HEE
Sukvinder Kaur – National Programme Manager, HEE
Clare Sutherland – Senior professional advisor for AP fast-track programme, NHS Improvement
Katrina MacLaine – Associate Professor, Advanced Practice, London South Bank University
Ruth Pearce – Director of Education and Student Experience Associate Professor, The University of Nottingham
Phil Goode – Consultant Nurse/Trust non-medical prescribing lead, NHS South Warwickshire Foundation Trust
Robyn Swain – Programme Lead, NHS Employers
Judy Gillow – Senior Nurse Advisor, HEE
Mia Cruttenden – Deputy Director of Nursing and Quality, NHS England
Sarah Goodhew – Advanced Practice Project Lead, HEE
elfh is a Health Education England programme in partnership with the NHS and professional bodies