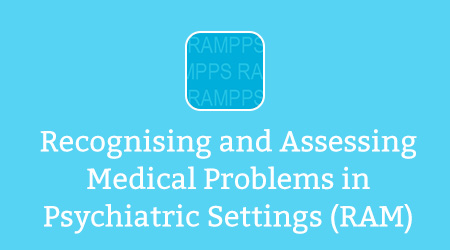 This programme is in partnership with...
About the Recognising and Assessing Medical Problems in Psychiatric Settings programme
The inter-relatedness of physical and mental health has received much attention in recent years with good reason. Patients suffering from serious mental health problems have more physical health problems and a greater morbidity and mortality rate than the general population: a threefold excess mortality and a life expectancy of around twenty years less.
Since 2012, Health Education Yorkshire and the Humber has been supporting the innovative multi-disciplinary course RAMPPS (Recognising and Assessing Medical Problems in Psychiatric Settings). Aimed at teams working and training together, it focuses on recognising the deteriorating patient and understanding the human factors important to delivering good care in these circumstances. RAMPPS is explicitly multidisciplinary focusing on medical, nursing and support staff as well as other professional groups. The scenarios use a high fidelity approach through different hybrid simulation modalities such as full body manikins, part task trainers and simulated patients. This course is being delivered in a number of quality assured clinical skills and simulation centres across our region. For more information about RAMPPS you can watch the RAMPPS video.
The RAMPPS course is supported by our interactive RAMPSS e-learning module, which takes about 15 minutes to complete. The e-learning module is suitable for all staff in mental health settings to help improve skills in recognising the deteriorating patient using an ABCDE approach, AVPU and the SBARD communication tool.
For more information about the RAMPSS programme please visit the HEE: Yorkshire and the Humber Clinical Skills and Simulation website.
Meet the team
Dr Zead Said

HEE Yorkshire and Humber Leadership Fellow

Tracy Latham

Regional Clinical Skills Advisor, HEE working across Yorkshire and the Humber
RAMPPS regional steering committee
Louise Gardham

Learning Technologist and Lead Developer, YH e-Learning Club

Terri Fitzakerley

Learning Technologist, YH e-Learning Club
How to access
In order to access any e-LfH programme, you will need an e-LfH account. If you do not have one, then you can register by selecting the Register button below.
If you already have an account with e-LfH, then you can enrol on to the Recognising and Assessing Medical Problems in Psychiatric Settings (RAMPPS) programme by logging in to the e-LfH Hub, selecting My Account > Enrolment and selecting the programme. You can then access the programme immediately in the My e-Learning section.
NHS healthcare staff in England
The RAMPPS programme is also available to NHS healthcare staff via the Electronic Staff Record (ESR). Accessing this e-Learning via ESR means that your completions will transfer with you throughout your NHS career.
Further details are available here.
e-LfH is a Health Education England Programme in partnership with the NHS and Professional Bodies