About the Dentistry programme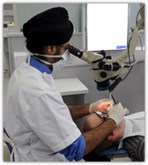 e-Den is an engaging and interactive learning resource delivered through a partnership between the Royal College of Surgeons of England, through a partnership between the Royal College of Surgeons of England and Health Education England e-Learning for Healthcare.
The e-Den curriculum is designed to realise a competent, caring, reflective practitioner, able to develop their career in any branch of dentistry. It also supports the continual professional development (CPD) for dental care professionals and experienced dentists.
Sessions have been written by subject specialists and are typically 20 minutes long. Users can dip in and out of the sessions as they wish.
The aim is to provide an engaging and interactive learning resource that is compatible with a busy professional life.
More information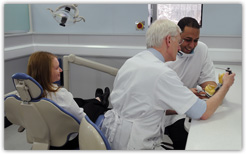 The curriculum is primarily based on the UK Dental Foundation Training Programme but also takes into account the educational needs of DCPs and more experienced practitioners.
The materials have been designed to be used on any internet enabled device either at home, in the workplace or on the move.
One of the exciting features of these materials is the incorporation of high resolution images and video clips which enrich the learning experience and increase visual accessibility.
The e-learning materials have been split into 12 modules covering broad subject areas. As a learner you can plan and record your learning and work through any module that is relevant to your training needs, in any order you choose.
How to access
In order to access any e-LfH programme, you will need an e-LfH account. If you do not have one, then you can register by selecting the Register button below.
If you already have an account with e-LfH, then you can enrol on to the Dentistry programme by logging in to the e-LfH Hub, selecting My Account > Enrolment and selecting the programme. You can then access the programme immediately in the My e-Learning section.
How to license
In the event that you do not qualify for free access to the Dentistry programme, you are able to license access through eIntegrity, a community-interest company established for this purpose.
For more information on the licensing options available for the Dentistry programme, please visit the eIntegrity website.
e-learning resources
Curriculum guide
The e-Den Curriculum Guide outlines the content of the twelve modules that make up e-Den and lists the e-learning sessions that are live on the system. This guide can be stored offline or printed, and provides a quick-access summary of all that e-Den has to offer. The curriculum guide will be updated on a regular basis as the project evolves and progresses.
GDC Enhanced CPD
All registrants on the General Dental Council register are required to  complete verifiable CPD which complies with the GDC Enhanced CPD Scheme.  Many of the e-LfH courses of relevance to dental teams, including e-Den sessions, can now be counted as verifiable CPD for the Enhanced CPD scheme.  The full range of courses where Enhanced GDC CPD is available is listed below:
All e-Den modules
| | | |
| --- | --- | --- |
| Alcohol and tobacco brief interventions | | |
| Conflict Resolution Level 1 | Health, Safety and Welfare | Safeguarding Adults Level 1 |
| Data Security Awareness Level 1 | Infection Prevention and Control Level 1 | Safeguarding Adults Level 2 |
| | Infection Prevention and Control Level 2 | Safeguarding Children Level 1 |
| e-IRMER Ionising Radiation (medical exposure) | Making Every Contact Count | Safeguarding Children Level 2 |
| Equality, Diversity and Human Rights | | |
| Female Genital Mutilation | Moving and handling Level 1 | |
Once you have completed any of the above courses, you must first generate a course completion certificate from the e-LfH Hub (help article). Following this you must complete the relevant Enhanced CPD form, referring to the course completion certificate. Both the relevant course Enhanced CPD form and the accompanying e-LfH Hub course completion certificate should be kept as evidence in your records to demonstrate you have completed verifiable CPD, should the GDC request it.
You can download the relevant module Enhanced CPD forms below: