About the Domestic Violence and Abuse programme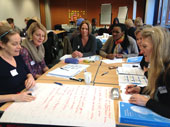 The e-learning sessions are intended for use by nurses and health visitors. Three new introductory sessions were added in July 2014 following a successful nationwide roll-out of face-to-face training nationwide by the Institute of Health Visiting.
More information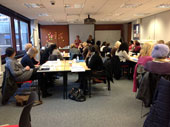 In the Health Visitor Implementation Plan 2011-15 – A Call to Action, published by Ministers on 8 February 2011, the government committed to developing a larger, re-energised health visiting service which needs to rapidly expand to meet the growth aim for this Parliament. Deliverables for health visiting are also included in DH's business plan on the No. 10 website.
The Health Visitor Implementation Plan contains core aims to "improve opportunities to use the full range of health visitor skills and re-emphasise health visitors as key public health professionals" and to "ensure a strong focus on responding to differential needs and improving outcomes, and that systems promote effective join-up between services in ways that best meet local needs". Training health visitors to identify and deal with domestic violence and abuse, including making referrals to specialist counselling, is a key driver of these aims.
A key commitment made within 'A Call to Action – One Year On – Health Visitor Implementation Progress Report', was to consider how to link into the tools, skills and guidance for health visitors and school nurses to be better equipped to deal with Domestic Violence and Abuse.
Violence damages physical and emotional health and can have long lasting negative impacts across a wide range of health, social and economic outcomes. We also know that domestic violence and abuse have a major impact on the health, social, emotional and intellectual development of the child and young person and have a major impact on the family.
Identification of need and early intervention/work with families can significantly reduce risk of ongoing harm and is important not only for the wellbeing of the child, but to the health and wellbeing of the children and families affected.
The 3 e-learning modules each lasting around 45 minutes were developed by the Institute for Health Visiting, funded by the Department of Health. The focus of each is;
Module One – The evidence base for practice
Module Two – Excellence in practice – Universal and Universal Plus services
Module Three – Excellence in practice – Universal Partnership Plus services
The 3 modules include videos, case studies, links to aid learning and questions to test your knowledge of the subjects and reflect on your learning.
How to access
In order to access any e-LfH programme, you will need an e-LfH account. If you do not have one, then you can register by selecting the Register button below.
If you already have an account with e-LfH, then you can enrol on to the Domestic Violence and Abuse programme by logging in to the e-LfH Hub, selecting My Account > Enrolment and selecting the programme. You can then access the programme immediately in the My e-Learning section.
Available to all
The Domestic Violence and Abuse programme is available in the Open access sessions section above. If you access the content using this link, you will not have to log in but your activity will not be tracked and you will not be able to generate a record of completion.
NHS healthcare staff in England
The Domestic Violence and Abuse programme is also available to NHS healthcare staff via the Electronic Staff Record (ESR). Accessing this e-Learning via ESR means that your completions will transfer with you throughout your NHS career.
Further details are available here.