About the Environmentally Sustainable Healthcare programme
NHS England has committed to reducing its direct emissions to 'net zero' carbon emissions by 2040, with most of the reduction by 2030. There are similar initiatives underway in Wales and Scotland.
The Environmentally Sustainable Healthcare (ESH) programme was developed with the Centre for Sustainable Healthcare and the HEE Northeast Faculty of Sustainable Healthcare to provide the healthcare workforce with the knowledge and skills to deliver healthcare for financial, social and environmental sustainability.
About the elearning
There are 3 sessions in the Environmentally Sustainable Healthcare programme, all presented through key concepts and case studies. Sessions 1 and 2 are suitable for all in the NHS healthcare workforce.
1. Building a Net Zero NHS
An introduction to environmentally sustainable healthcare.
By the end of the session, learners will be able to:
Describe how the climate emergency affects health
Explain the relevance of the NHS Net Zero plan to their work
Identify case studies that reduce waste and pollution
2. Environmental Sustainability in Quality Improvement
Integrating environmental, social and financial considerations into quality improvement.
By the end of the session learners will be able to:
recognise sustainability as a domain of quality
describe how sustainability adds value to each step of a QI process
identify the steps for embedding sustainability into quality improvement
identify appropriate resources for undertaking a sustainable QI project
3. Environmental Sustainability in Dentistry
Applying environmental sustainability principles and practices to the dental setting.
Please note that this session is due to be available in 2022.
Each session can be completed in approximately 30 minutes. Certificates are available to download on completion of the sessions.
More information
The Centre for Sustainable Healthcare develops methods to reduce healthcare costs and carbon emissions, while improving care quality and staff wellbeing.
Learn more about "Delivering a Net Zero NHS" on the Greener NHS website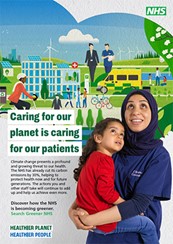 How to access
In order to access the Environmentally Sustainable Healthcare programme, you will need an elfh account. If you do not have one, then you can register by selecting the Register button below.
To view the Environmentally Sustainable Healthcare programme, select the View button below. If you already have an account with elfh, you will also be able to login and enrol on the programme from the View button.
NHS healthcare staff in England
The Environmentally Sustainable Healthcare programme is also available to NHS healthcare staff via the Electronic Staff Record (ESR). Accessing this elearning via ESR means that your completions will transfer with you throughout your NHS career.
Further details are available here.
Not an NHS organisation?
If you are not an NHS health or care organisation and therefore do not qualify for free access elfh Hub, you may be able to access the service by creating an OpenAthens account.
To check whether or not you qualify for free access via OpenAthens, you can view the eligibility criteria and register on the 'OpenAthens' portal.
Registering large numbers of users
If you are a HR, IT or Practice Manager and would like to register and enrol large numbers of staff within your organisation for access onto the Environmentally Sustainable Healthcare programme, please contact elfh directly.
Organisations wishing to use their own LMS
For HR departments wanting to know more about gaining access to courses using an existing Learning Management System please contact elfh directly to express interest.
More information
Please select the following link for more information on how to use the elfh Hub.