About the Foundation programme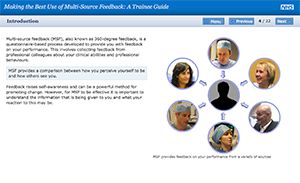 The Foundation e-learning programme is a free e-learning resource for Foundation doctors.
The e-learning sessions are mapped directly to the Foundation professional Capabilities (Training Outcomes) in the 2016 Foundation Curriculum. They can be found from quick links on each line of the curriculum in the e-portfolio. The material has been developed by the Academy of Medical Royal Colleges in partnership with e-Learning for Healthcare (e-LfH) and is approved by UKFPO.
Each session takes around 20 minutes to complete, designed to fit in with busy work/study schedules and can be used:
As a reference tool
To revisit topics to refresh learning
As directed preparation for a formal education session
To ensure coverage of aspects of the curriculum that are not often encountered in the work place
More information
The Foundation e-learning programme is designed to underpin practical clinical experience and ensure the application of pre-existing knowledge in a safe manner.
The e-learning material is designed to enhance and blend with the existing teaching within Foundation schools.
Some of the topics covered include:
Safe Prescribing
Acute Illness
Nutrition
Safe Patient Care
Safeguarding Children
Blood Transfusion
Infection Control
Supervised Learning Events: mini CEX, CBD, MSF and DOPS
How to access
In order to access any e-LfH programme, you will need an e-LfH account. If you do not have one, then you can register by selecting the Register button below.
If you already have an account with e-LfH, then you can enrol on to the  Foundation programme by logging in to the e-LfH Hub, selecting My Account > Enrolment and selecting the programme. You can then access the programme immediately in the My e-Learning section.
How to license
In the event that you do not qualify for free access to the Foundation programme, you are able to license access through eIntegrity, a community-interest company established for this purpose.
For more information on the licensing options available for the Foundation programme, please visit the eIntegrity website.
Incoming F1 doctors
User accounts for all incoming F1 doctors who join in August are automatically created so new users do not need to register.
The e-learning login details are emailed directly to each doctor and supplied to the relevant Foundation schools. If you haven't received those details please contact your Foundation School or please complete the support form.
Doctors who join later on in the year or who fall outside of the UKFPO registration process should complete the registration form.
NHS healthcare staff in England
The Foundation programme is also available to NHS healthcare staff via the Electronic Staff Record (ESR). Accessing this e-learning via ESR means that your completions will transfer with you throughout your NHS career.
Further details are available here.