About the Immunisation on Neonatal Units programme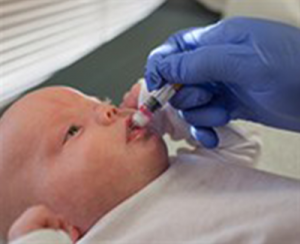 This e-learning session has been developed by the Thames Valley & Wessex Neonatal Operational Delivery Network in partnership with Health Education England e-Learning for Healthcare (HEE e-LfH). The session aims to support newly qualified/novice nurses, neonatal nurses, and other members of multi-professional teams to achieve knowledge and competence in the administration and management of neonatal immunisations, including vaccination for Respiratory Syncytial Virus (RSV). The e-learning session will be used as part of a blended learning approach as an adjunct to face-to-face teaching sessions, simulation and scenarios to facilitate reflection and real time feedback.
This session will discuss and review the issues surrounding vaccination of pre-term infants while resident on a neonatal unit. It will discuss issues around who can give consent while the baby is still resident on a neonatal unit, why it is important to administer routine immunisations at the appropriate time and within the schedule and when a delay in vaccination timing may be appropriate.
Thank you
We would like to thank the following for their contribution to the project:
Lisa Caldwell – Practice Educator, Neonatal Unit, Royal Berkshire Hospital
Tamsyn Crane – Senior Sister, Neonatal Nursing Education, Princess Anne Hospital University Hospital, Southampton
Carol Moore – Matron, Neonatal Intensive Care Unit, Portsmouth Hospitals Trust
Kate Graham-Evans – Consultant Neonatologist, Portsmouth Hospital Trust
How to access
In order to access any e-LfH programme, you will need an e-LfH account. If you do not have one, then you can register by selecting the Register button below.
If you already have an account with e-LfH, then you can enrol on to the Immunisation on Neonatal Units programme by logging in to the e-LfH Hub, selecting My Account > Enrolment and selecting the programme. You can then access the programme immediately in the My e-Learning section.
NHS healthcare staff in England
The Immunisation on Neonatal Units programme is also available to NHS healthcare staff via the Electronic Staff Record (ESR). Accessing this e-Learning via ESR means that your completions will transfer with you throughout your NHS career.
Further details are available here.