About the Immunisation on Neonatal Units programme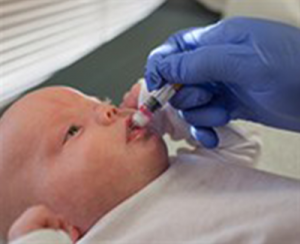 This elearning session has been developed by the Thames Valley & Wessex Neonatal Operational Delivery Network in partnership with Health Education England elearning for healthcare (HEE elfh). The session aims to support newly qualified/novice nurses, neonatal nurses, and other members of multi-professional teams to achieve knowledge and competence in the administration and management of neonatal immunisations, including vaccination for Respiratory Syncytial Virus (RSV). The elearning session will be used as part of a blended learning approach as an adjunct to face-to-face teaching sessions, simulation and scenarios to facilitate reflection and real time feedback.
This session will discuss and review the issues surrounding vaccination of pre-term infants while resident on a neonatal unit. It will discuss issues around who can give consent while the baby is still resident on a neonatal unit, why it is important to administer routine immunisations at the appropriate time and within the schedule and when a delay in vaccination timing may be appropriate.
Thank you
We would like to thank the following for their contribution to the project:
Lisa Caldwell – Practice Educator, Neonatal Unit, Royal Berkshire Hospital
Tamsyn Crane – Senior Sister, Neonatal Nursing Education, Princess Anne Hospital University Hospital, Southampton
Carol Moore – Matron, Neonatal Intensive Care Unit, Portsmouth Hospitals Trust
Kate Graham-Evans – Consultant Neonatologist, Portsmouth Hospital Trust
How to access
In order to access the Immunisation on Neonatal Units programme, you will need an elfh account. If you do not have one, then you can register by selecting the Register button below.
To view the Immunisation on Neonatal Units programme, select the View button below. If you already have an account with elfh, you will also be able to login and enrol on the programme from the View button.
NHS healthcare staff in England
The Immunisation on Neonatal Units programme is also available to NHS healthcare staff via the Electronic Staff Record (ESR). Accessing this elearning via ESR means that your completions will transfer with you throughout your NHS career.
Further details are available here.
Not an NHS organisation?
If you are not an NHS health or care organisation and therefore do not qualify for free access elfh Hub, you may be able to access the service by creating an OpenAthens account.
To check whether or not you qualify for free access via OpenAthens, you can view the eligibility criteria and register on the 'OpenAthens' portal.
Registering large numbers of users
If you are a HR, IT or Practice Manager and would like to register and enrol large numbers of staff within your organisation for access onto the Immunisation on Neonatal Units programme, please contact elfh directly.
Organisations wishing to use their own LMS
For HR departments wanting to know more about gaining access to courses using an existing Learning Management System please contact elfh directly to express interest.
More information
Please select the following link for more information on how to use the elfh Hub.