Making Child and Adolescents Learning Disabilities awareness a priority across GP practices
Current situation
In 2011, Public Health England (PHE) reported that 286,000 child and young people under 18 years old in England have a Learning Disability (LD). Children and adolescents with learning disabilities, are six times more likely to have a diagnosable mental health condition than those without (Emerson & Hatton 2007) and are more likely to experience mental health difficulties such as anxiety or low moods. One of the main barriers in identifying and diagnosing physical and mental health problems in children with LD is communication failure.
The challenge
Identifying the needs of children and young people with learning disabilities within primary care settings is integral to the effective and efficient assessment, management and delivery of care. The challenge was to upskill the primary care staff in this area. The package which constitutes one of the key resources of the Breaking Down the Barriers (BDtB) training package includes a combination of different training and communication techniques which could be sustainably used.
Addressing the problem

UCLPartners was commissioned by Health Education England, north, central and east London (NCEL) to conduct a needs assessment in 2014 across GP practices and primary care settings. We discovered a clear need and keen desire from GP practice staff to increase mental and physical health awareness, knowledge and basic skills in the management of children and adolescents with learning disabilities. UCLPartners has facilitated the co-creation, in partnership with North East London NHS Foundation Trust (NELFT), of free learning disabilities awareness training resources for use across GP practices, primary care multidisciplinary staff. Resources have been developed as flexible taught modules, delivered in bite-sizes through a mixture of presentations, practical exercises, videos tutorials, case studies, scenarios, quizzes and discussions. Dr Bini Thomas (right, top),

Consultant Psychiatrist in Learning Disabilities, Simulation Lead & Dr Kala Shanmugananda (right, bottom), Consultant Community Paediatrician, both from NELFT, have been actively leading the way in delivering training sessions across the north-east London geographical region to promote and increase awareness in this area. Their exceptional and interactive training approach has had a lasting impact on all participants who have attended their sessions.
How NELFT's approach is supporting management learning disabilities services across GP practices
NELFT's innovative approach focuses on proactively enabling GPs to identify and manage children and young people with intellectual disabilities presenting with complex health concerns including mental health effectively. This involves having allocated LD nurses working with GP clusters as a main point of contact. NELFT has also led the way in managing transitions for children and young people with complex mental and physical health needs by ensuring awareness training is a key priority. They also have a clear transition pathway, a designated professional for signposting and working in collaboration with the client and their families.
The key targets:
• Creating awareness among GPs and practice staff regarding mental health in children and young people with learning disabilities to improve the management of care, outcomes and patient experience
• Facilitate the delivery of initial "Train the trainer" sessions to increase training delivery capacity and competency across settings to ensure sustainability and transformation and thereby having an impact on physical and mental health outcomes and better experience for children and adolescents with learning disabilities.
Seeing results

Constantinos Petrides, Paediatric Registrar attended one of the BDtB child and adolescents learning disabilities "Train the Trainer" sessions this year and says this is an excellent and much needed course, pitched at the right level, suitable for health and social care professionals. He found the session provided him with invaluable knowledge and incredible insight into the experiences of professionals (nurses, psychologists, practice managers, GPs and parents) in the assessment and management of children and adolescents with LD across primary care settings.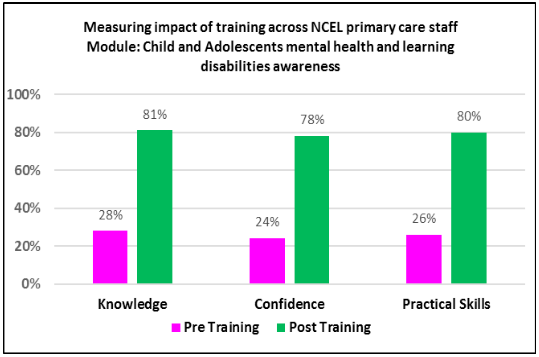 The Director of Medical Education at NELFT, Dr Mohan Bhat, has also received excellent feedback from staff who have attended this training and have found materials adaptable to local needs.
To facilitate capability building, sustainability and maintain training delivery across GP practices, BDtB has facilitated the provision and delivery of a number of "Train the Trainer" sessions. We have also developed a certified trainer list for localities to draw on. This will help attendees to attend refresher sessions to maintain their knowledge, confidence and practical skills.
Highlighted in the table below, findings and results following the initial roll-out of child and adolescent mental health and learning disabilities training across primary care shows a tremendous impact. We've found this is encouraging more GPs and practice managers to make provisions to ensure BDtB training is part of their core curriculum.
Ronke Adejolu, Programme Manager at UCLPartners, said "Breaking Down the Barriers awareness training is an excellent example of partnership working can help invest in and develop the capability and capacity of the NHS primary care workforce."
For certified trainers to support further delivery of training across GP practice and GP VTS programme in the NCEL geographical region is available here. Access and download training resources here. For more information, please visit bit.ly/UCLPBreakingBarriers Or contact Ellen.Nelson@uclpartners.com.