COVID-19 Surge 2021 - Rapid Access Resources
To support NHS staff being deployed for the Covid-19 response, the London Transformation and Learning Collaborative have collated key resources to help individuals, educators and systems prepare. We recognise staff are very busy; so these resources are purposely designed to be short and read/watched on the move or the ward. Download, share via social media (or print and post in your department / coffee room / changing room) this interactive PDF on How to access the LTLC resources for redeployment (PDF, 186KB).
Critical Care Equipment Guides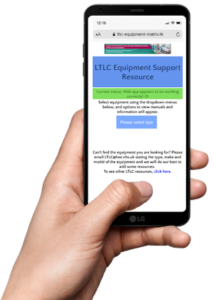 This mobile friendly web app allows the user to rapidly access quick guides, manuals, and training videos for most of the equipment used in Critical Care units in London.
You can search by equipment purpose, make and model to find specific guides that are all free and open access. For example, Ventilator: Hamilton: C3 or Syringe Pump: DeepMed: SP4.
Please note, while these are the most accessible guides available, some may not be from manufacturers, and all should be viewed in the context of local trust or site practice.
Pharmacy webinars
Pharmacy Surge Training is 5 recorded live teaching webinars. This resource was developed by critical care pharmacists for pharmacists deployed to critical care in response to COVID-19. The content is relevant for any registered clinician who works within, or is deployed to, critical care. Content includes basics of critical care, renal and liver dosing, inotropes, sepsis, definition recognition and management for surge, septic shock, fluids, agitation, delirium, neuromuscular blockade agents, prokinetic bowel care, blood glucose control, COVID-19 therapies, introduction to clinical trials, pharmacokinetics and pharmacodynamics, monitoring of patients and drugs, routes of drug administration in critical illness, patient monitoring and case studies including pregnancy.
A Toolkit for rapid cross-skilling, supporting safe redeployment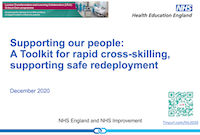 To meet immense pressures and the need to redeploy staff safely across healthcare settings, the LTLC have created a toolkit (PDF, 3332KB) to support interprofessional cross-skilling during rapid redeployment of the workforce.
The toolkit provides guidance on the resources available on the LTLC website and is packed with hyperlinks and QR codes to take users directly to the core content. It should be used in conjunction with the updated national guidance for workforce management, Advice on Acute Sector Workforce Models During Covid-19 (PDF, 686KB), which was published on 10 December 2020.
Just-in-time training for deployed staff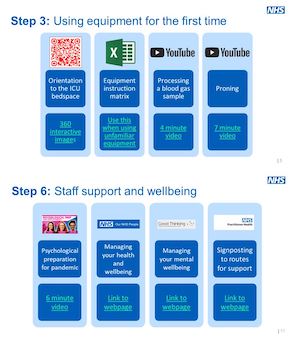 These just-in-time training packages for deployed staff collates COVID-19 response essential skills for staff being (re)deployed, with rapid access links to help them cover the essential skills that may be needed by anyone working outside their normal role in surge. These essential skills have been divided into steps, from how to access COVID-19 specific self-directed learning through to completing a skills passport.
Just-in-time training fundamentals (PDF, 1278KB)
Doctor redeployment Just-in-time training (PDF, 2171KB)
Paediatric critical care cross-skilling documents
Staff who redeployed from paediatrics to adult critical care in surge 1 identified the learning outcomes they felt they needed to revise to feel confident in the adult environment. A column has been added to the RSC tab of the Skills Matrix called 'Redeploying paediatric staff areas to update'. Each learning outcome is mapped to resources that are readily available through the LTLC elfh Hub. In addition, as for all staff redeploying, there are key skills covered in both the 'ICU Generic Skills' tab and the 'Covid-19 Generic Skills' tab such as proning and manual handling' videos and patient safety resources.
Additional resources have been provided by colleagues from across London: