Members of the team that work on the Health Education England elearning for healthcare (HEE e-LFH) elearning Programme for Plastic, Reconstructive and Aesthetic Surgery (e-LPRAS) recently supported the British Association of Plastic, Reconstructive and Aesthetic Surgeons (BAPRAS) with its Advanced Educational Course on 'Limb Reconstruction'.
The event, which took place at the Manchester Conference Centre last month, was very well attended and included a mix of both practical demonstrations and traditional lectures.
Delegates were invited to complete a selection of e-LPRAS sessions as pre-course and/or post-course reading. Session topics included 'Chronic Osteomyelitis in the Lower Limb', 'Acute Compartment Syndrome in the Lower Limb' and 'Management of Bone Loss in Open Fractures of the Lower Limb'.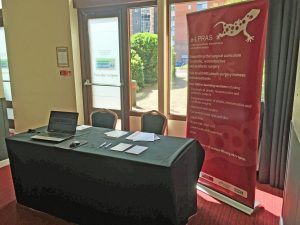 Team members also manned a dedicated e-LPRAS stand in the exhibitors' area, allowing them to gather feedback, register new users and spread the word about new developments on the project.
Stephen Gibbons, elfh Project Manager said, "As the e-LPRAS project grows, face-to-face events such as these remain vital. They provide an important opportunity for team members to connect with our users and for the project to demonstrate its commitment to the educational role of BAPRAS. Thanks to Kavita Prashar and the rest of the BAPRAS team for helping to make it happen."
Further BAPRAS Advanced Educational Courses on topics such as 'Cleft, Craniofacial and Ear Reconstruction' and 'Skin Oncology' are planned for later this year and for early 2019.
For more information about e-LPRAS please visit: https://www.e-lfh.org.uk/programmes/plastic-reconstructive-and-aesthetic-surgery/